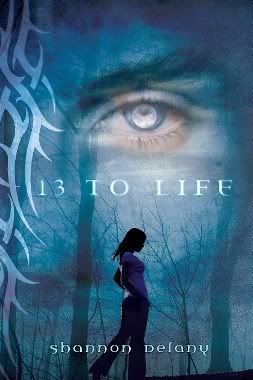 Title: 13 to Life
Author: Shannon Delany
Published: June 22nd 2010
Synopsis from Goodreads:
Something strange is stalking the small town of Junction…
When junior Jess Gillmansen gets called out of class by Guidance, she can only presume it's for one of two reasons. Either they've finally figured out who wrote the scathing anti-jock editorial in the school newspaper or they're hosting yet another intervention for her about her mom. Although far from expecting it, she's relieved to discover Guidance just wants her to show a new student around—but he comes with issues of his own including a police escort.
The newest member of Junction High, Pietr Rusakova has secrets to hide--secrets that will bring big trouble to the small town of Junction—secrets including dramatic changes he's undergoing that will surely end his life early.
13 to Life
was not what I was expecting,
at all
. That's a great thing! I expected it to be good, just not in the way that it was. I've noticed that a lot of paranormal books rely on the paranormal aspect of the book to creat suspense, tension, and drama. This book did not. It did that using good old fashioned emotions, with smatterings of paranormal throughout.
Jess is a character that I can get behind. She's loyal to her friends, doesn't take crap from anybody, and is a generally good person. She likes Pietr, but so does her friend Sarah. Her friend who played a large role in the death of Jess's mother, but became a completely different person after it happened. So Jess convinces Pietr that she wants him to date Sarah. Despite this they can't stay away from each other.
I thought that Jess and Pietr worked well together. Their connection felt real, and I enjoyed their conversations. My favorite scenes were when they were together.
The aspect of Jess's mother's death was something that I wasn't expecting. I also wasn't expecting so much to be left until the very end. It wasn't a bad thing, I enjoyed getting to know the characters without the supernatural. I really liked Pietr's family, they were really interesting and I want to know more about them. I can't really say how original Shannon's take on werewolves is yet, because I really don't know much about hers.
Something that I didn't like was that some parts of the book were a bit slow. I also got a little frustrated when someone would reference an event that wasn't explained until later in the book. It made me feel like I was missing something.
Basically, I really liked this book, I just wish that a few things had been explained sooner and that it moved slightly quicker in a couple places.
Characters: 9/10
Plot: 8/10
Originality: 9/10
Writing: 9/10
Ending: 9/10
Overall: 44/50 B+