These are just a few books that I've read this summer but didn't write full reviews for.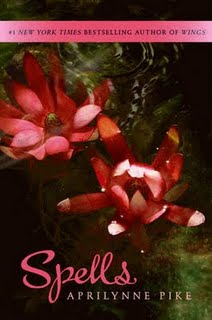 Title: Spells
Author: Aprilynne Pike
Published: May 2010
Synopsis from Goodreads:
Six months have passed since Laurel saved the gateway to the faerie realm of Avalon. Now she must spend her summer there, honing her skills as a Fall faerie. But her human family and friends are still in mortal danger--and the gateway to Avalon is more compromised than ever.

When it comes time to protect those she loves, will she depend on David, her human boyfriend, for help? Or will she turn to Tamani, the electrifying faerie with whom her connection is undeniable?
Well, this was a HUGE step up from Wings. I thought that Wings was only okay, but I really liked Spells!
So much more happened in this book! I loved reading about the faerie world, and Tamani *swoon*. Laurel is probably my least favorite part, actually. 4 Stars!
Title: Infinity
Author: Sherrilyn Kenyon
Published: May 2010
Source: Won
Synopsis from Goodreads:
At fourteen, Nick Gautier thinks he knows everything about the world around him. Streetwise, tough and savvy, his quick sarcasm is the stuff of legends. . .until the night when his best friends try to kill him. Saved by a mysterious warrior who has more fighting skills than Chuck Norris, Nick is sucked into the realm of the Dark-Hunters: immortal vampire slayers who risk everything to save humanity.

Nick quickly learns that the human world is only a veil for a much larger and more dangerous one: a world where the captain of the football team is a werewolf and the girl he has a crush on goes out at night to stake the undead.

But before he can even learn the rules of this new world, his fellow students are turning into flesh eating zombies. And he's next on the menu.

As if starting high school isn't hard enough. . .now Nick has to hide his new friends from his mom, his chainsaw from the principal, and keep the zombies and the demon Simi from eating his brains, all without getting grounded or suspended. How in the world is he supposed to do that?
I thoroughly enjoyed this book! The world that Sherrilyn Kenyon created was a lot of fun to be in. Nick was a good character, though sometimes I thought that he was a little cliched. My favorite character was Bubba. He's just hilarious. The zombie aspect was fun to read, and completely unique. I just wish that there were less characters to keep track of, I got a little confused. 4.5 Stars!
Title: The Reckoning
Author: Kelley Armstrong
Published: April 2010
Source: The Library
Synopsis from Goodreads:
Only two weeks ago, life was all too predictable. But that was before I saw my first ghost. Now, along with my supernatural friends Tori, Derek, and Simon, I'm on the run from the Edison Group, which genetically altered us as part of their sinister experiment. We're hiding in a safe house that might not be as safe as it seems. We'll be gone soon anyway, back to rescue those we'd left behind and to take out the Edison Group . . . or so we hope.
I was a little bit disappointed in this book. I absolutely adore the other two in the trilogy, but this one fell a bit flat. Instead of being on the run, a lot of the book is set in the same place. It really slowed the pace down. I liked the romance! There wasn't much in the first two books, but this one totally made up for it! I can't wait for her next trilogy! 4 Stars!